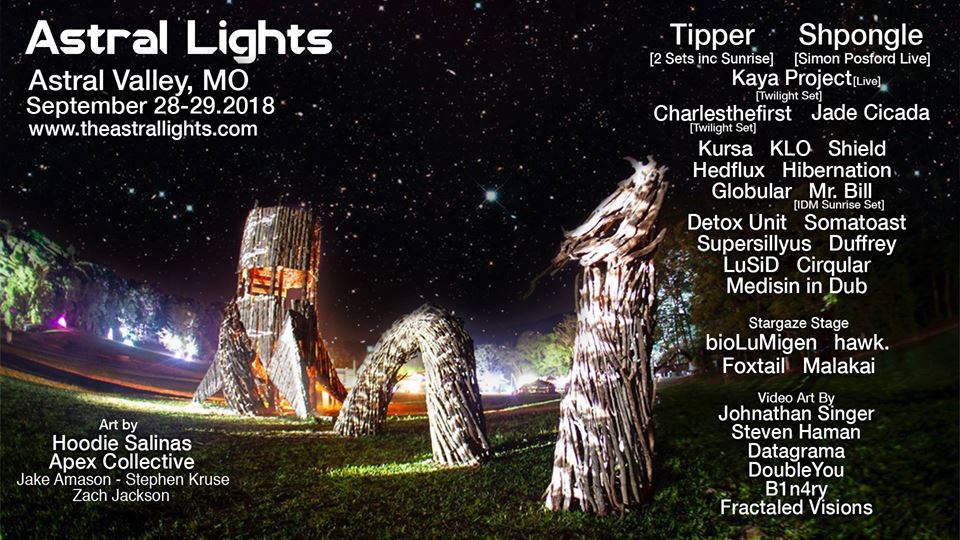 We're so unbelievably stoked for Astral Lights! Shpongle (did someone say that ticket sales for their last Live Shpongle show go on sale tomorrow?), Kaya Project and his side-project Hibernation, Charlesthefirst… OK, we'll just stop listing off the entire lineup. Oh, we are remiss from mentioning that there will be two sets of Tipper that feature mesmerizing and cutting-edge visuals from heady hitter artists in Johnathan Singer and Datagrama (we're just extra familiar with these fellas from past Tipper events and Datagrama was just recently at Resonance Music & Arts fest blowing everyone's minds). The venue is a beautiful medium-sized unique grounds with several permanent installations that plays host annually to the premier Midwest psytrance fest Sacred Earth, so you know the grounds have been properly pre-stomped for the new arrivals.
With no overlaps during the two-day event, attendees can successfully absorb every bit of the musical offerings. The Stargaze camping area up the hill from the main venue grounds will also have a small stage (Stargaze Stage) that continues late-night vibes with not-so-unknown names such as bioLuMigen and the side-project of CharlestheFirst, hawk.  The Rust artists Malakai and Foxtail, New York and Utah-based, will offer clean and intentional yet soulful sounds that may be Astral attendees' first exposure to these up and coming artists. Flying in from the UK, Globular is an extra-special treat for global psydub enthusiasts, and we're ready to get our heads crunched by Kursa and his collaboration trio KLO. Mr. Bill and Supersillyus also likely have new spunky material to bring and really there's not one to miss through the bunch.
We'll have a GoPro and will upload footage of some highlights after Astral Lights and after we can recover our minds and hearts from all the awesomeness. People are traveling from all over for this one. In conclusion…….. we'll see you there.