By Mara Eisenstein
Originally posted on LostinSound.org
Celestine: The Remixes is a three-part collection of original songs re-envisioned by 17 talented electronic artists, originating from Denver-based Little Star's vocal compositions on her December 2016 album Celestine. The final installment of Celestine: The Remixes is now out on Bandcamp, where you can listen to it here.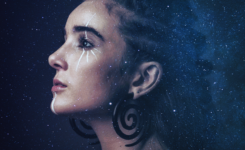 Celestine, or "of spirit" // "of the ethereal," is that which lives beneath, expands beyond, and exists within our human journey. In Celestine: The Remixes, Little Star's lyrical gifts are laid gracefully alongside creative rhythms produced by sonic masterminds. 17 artists and conscious co-creators offer interpretations that are strengthened with the young and powerful vocals of singer-songwriter/artist-composer Erin Dougherty. These structure the songs with deep underlying intention and tones.
 "In lands of metal, tin, and stone | We shed our skin to know our home.  Within these hearts, we're not alone | Within our tribe, we walk the road."
The remixes weave Little Star's vocal expressions with new perspectives, as we embark on an interdimensional journey throughout each of three installments. In each, we are transported to magical places of reflection. The result is a beautiful testament to the power of creative collaboration.
Little Star thoughtfully explains her intention and process in her Spring interview appearing in Shakti Yogi Journal, which you can read here. In her own words, Dougherty "crafted this album with the intention of creating a sacred offering, journey, and space that would carry through sound and word the currents of universal truth that exist eternally beneath and beyond any human journey we are on, or story we are living out.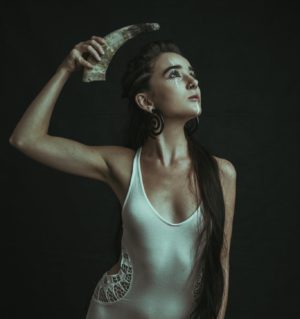 Mastered by Anthony Thogmartin, of Earthcry and Papadosio, each contribution to Celestine: The Remixes explores the vast realm of mid-tempo electronic and psychedelic bass music. Volume I opens with a "May the Way" remix, first with Erothyme's version, followed by Earthcry coming in on Track 3. Volume II opens with Pathwey's version (and if you don't know Pathwey, you should: give a listen to his remix of Kalya Scintilla's "Scintillating Sands" which has been heard live on Kalya's last tour). Pathwey's track guides us into the 2nd installment of the compiled release, with deep synthey bass for our first contact into the intriguing explorations to follow. Next we receive sonic downloads from Subaqueous, Drumspyder, lemurr, Makhana, and Cloudz, each springing forth a pleasingly familiar re-offering of the song in their own signature fashion.
Volume III promises to deliver even more takes on these celestial stems — and with Momentology's "Inanna Rahkma" remix, we find ourselves pulled into the reverb of a didgeridoo in the second half of the song. We also receive another Erothyme interpretation in this volume, this time a hybrid "vocal-instrumental" version, vibrating an auditory massage as an experimental bass interpretation of Little Star's "Northern Light." Living Light, as is her superpower to consistently deliver dubby delicious vibes to the dance floor, transports us to an ethereal dancehall, clocking in over 10 minutes. To add to the diversity in the third and final installment, there's a a BPM-bump with Dub Concepts' DnB-fused, 9-minute rework of Little Star's "Wisdom's Temple."
The diversity of the artistry is apparent: some songs include Earthy world-music inspired melodic interludes, while some seek to lead our minds to wander off of this planet for just a little while with space-based beats.
Much like delving deeper into the unexplored, these 17 talented artists push the boundaries of psychedelic electronic music, while still working from the framework of carefully chosen sounds that are microcosmic of each artist's personal style. All are inspired by a shining voice leading the path, with sonant offerings from Little Star at the helm.
It is aptly fitting to reference words from the original poem from which a favorite twinkly childhood lullaby is based, parts of which we all know and almost certainly share as collective memory: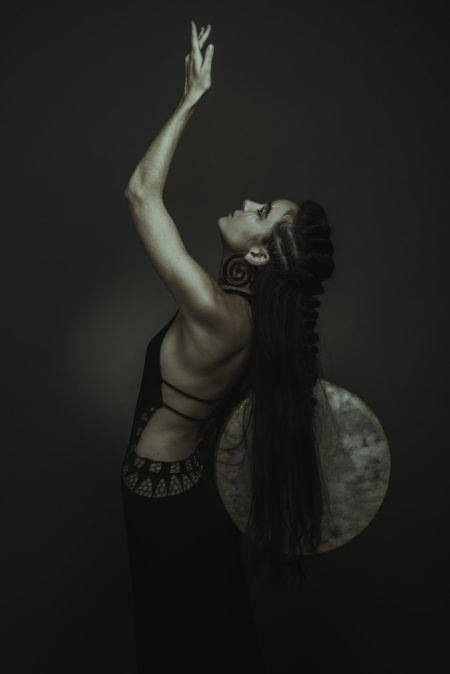 "Then the traveller in the dark | Thanks you for your tiny spark

He could not see where to go | If you did not twinkle so."
Without a little bit of light, we are lost in the vastness of our cosmic universe. We are compelled to say, "thanks" for providing the spark, Little Star, and being the muse for new pieces of sonic (he)ART that push boundaries with their vibrations. It takes a bit of light to illuminate and inspire beautiful new tapestries of creation, and Celestine: The Remixes is a glistening journey exploring 18 new ones.
Listen to Celestine: The Remixes on bandcamp:
Volume I | Volume II | Volume III
Follow Little Star on Facebook
Follow Little Star on Soundcloud