Stratusphere gives us a beautiful tune that is part of the new Liquid Bloom [more on the artist collective] remix release, and we're thrilled he aptly chose the song, "Whispers of our Ancestors." If you are familiar with Stratusphere, his original music themes toward honoring natural connections and the deep-rooted spiritual ancestry that connects humans with Nature. In some ways, his highly intentional music can be considered auric medicine to enable and guide that age-old deep connection. The original song is now 12 years old, from the first Liquid Bloom album Shaman's Eye in 2006, featuring Sarah West (vocals) and Robert Mirabal.
Stratusphere, currently out of Colorado, hails from the heart of the Midwest as well as Atlanta, and has played festivals all around the country and beyond — including Tribal Gathering – Panama, Blessed Coast – BC, and Shankra Festival – Switzerland. His latest album, Light Codes, came out June 2018 and you can find it here to give it a listen. Some other festival highlights include Kinnection Campout, Rootwire, 3DL, Earthdance, Unify, Shamanic Boom, Zen Awakening, and more.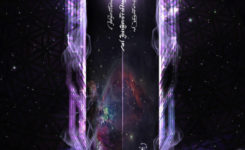 After his "When Space Speaks" 2017 tour that included a dozen and a half performances around the country, his 2018 summer album release led to him opening for Desert Dwellers as well as releasing music on their label, Desert Trax. He has shared stages with the likes of Kalya Scintilla, Bluetech, Random Rab, bioLuMigen, Kaminanda, Living Light, and Somatoast. He's also been part of several compilation albums with original submissions, including on Aquatic Collective's "Standing with the Waters" benefit album, Porangui remix with the song Illuminar, Gang Related Activities (April 2018), and an Antandra remix from 2016 with "Dazed and Amused."
Stratusphere recently played at the coveted Alex and Alison Grey's Chapel of Sacred Mirrors this Fall, and is playing 12/22 at the Black Box in Denver with Telefon Tel Aviv.
A rooted and beautiful connection comes through in all of his music, and we can feel a lot of thought and intention behind each song he creates. A few of our favorite songs of his are The Mother Connection, Grandfather, and the inspired Welcome the Morning. We hope you will be able to catch a sundown or sunrise set of his some day soon, as he will be traveling again to play his music around the country in 2019. Looking forward to staying connected to his journey!
Read more about the Liquid Bloom remix album courtesy of The Untz.
Follow Stratusphere Music on Facebook